Last year was year 10 for the blog, which is somewhat of a milestone. Here are the stats from last year and some things I've learned over that time.
Year 10
My first post was November 2012, which made 2013 the first full year for the blog. Over that time, I've published over 620 posts. I'm averaging 62 posts each year, which is pretty good. My goal is to post 100 times a year. I haven't reached that milestone yet, but it's a goal I'm going to keep striving towards.
How have I managed to keep posting for 10 years? I believe it's because I have a purpose that's more meaningful than traffic or pageviews. To be honest, if it was about traffic, I pro0bably would have stopped 10 weeks in. If you're interested in why I keep this blog, you can read the article here.
And yes, that was the first post on my blog. And yes, the reasons I blog haven't changed.
OK, let's talk numbers for last year.
Blog traffic
While the numbers don't dictate what I write about or how much I post, they are still fun to look at. In the past 10 years, there have been 287,520 visits to the blog. It's interesting to see how the traffic was basically non-existent the first 2 years, and then an article I wrote about installing DD-WRT on a router spiked the traffic in the middle of 2015. Traffic to the blog has maintained a steady rate since then.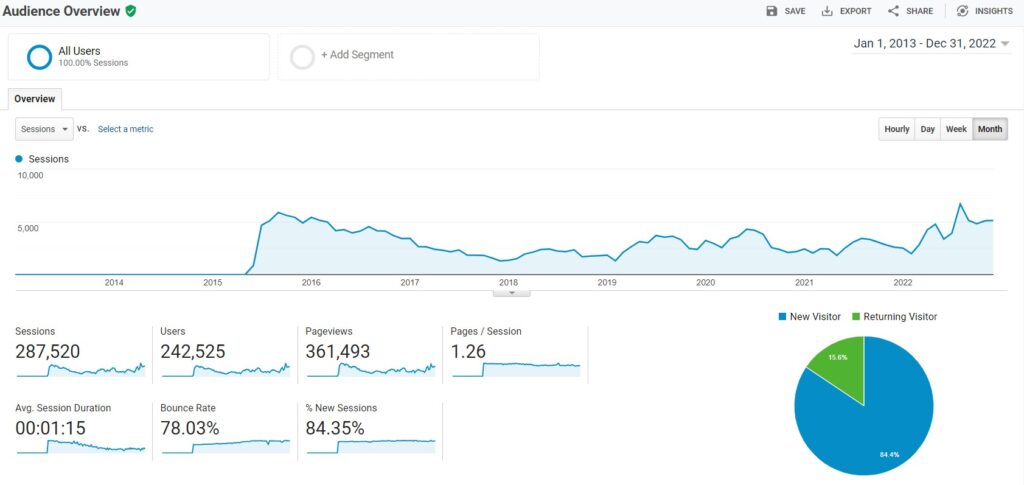 The traffic for the past year was actually pretty good. In fact, it was the best year ever with over 50,000 visits. I'll get into the details behind the numbers later, but I attribute the results to 2-3 posts last year along with the amount of legacy content on the site.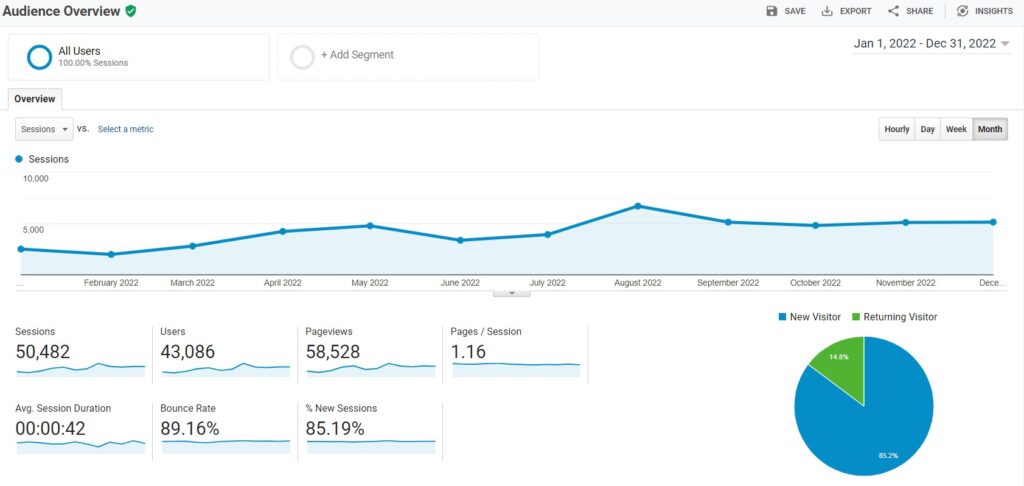 Traffic lessons learned
Original content matters
Create you own content in your own voice. Readers don't find a regurgitation of what someone else wrote interesting. If you're going to reference other writings on the internet, add to it with your own thoughts, wisdom, and insight.
Quantity of content make a difference
The lack of traffic to your site can be disheartening when you first start a blog. The traffic numbers can be so low it makes you wonder 'what's the point?' That is the time when you need to forge on. Certainly, there are a few posts that drive the majority of the traffic to my site, but the other 600+ posts make up the reminder which can account for as much as 35-40% of the traffic.
The long tail of search is a thing
When I've looked at my traffic sources, some of the search terms can be long and detailed. There is such a thing as the long tail of search. While it may not generate a lot of traffic, it does drive some of the best, most engaged traffic to my site.
General blogging lessons learned
After blogging for 10 years, I've learned a few lessons about maintaining a site.
Blog with a purpose that isn't vanity related
If the goal of blogging is to see how many views you can generate, you'll be disappointed. You'll be constantly chasing trends and writing for search engine bots. Blog with a purpose, a purpose that matters to you. If nothing else, it will give you something to look back on. I've found it interesting to re-read some of my older posts. It shows how far my writing has come, and it's interesting to see how my thoughts and views have changed, or not changed, over time.
Don't pander to the crowd
The audience shouldn't dictate your content. Blog about what matters to you. It'll be easier to write about the things that you truly care about.
Develop a routine around writing
If you can make it a habit to write at a certain time or day of the week, it will help create a rhythm and enforce a discipline around posting. Bonus points if you're able to schedule it in your calendar, and extra credit if you create an editorial calendar. I'll confess I don't do the last two because I don't want my writing to feel like work, but I try to keep a rhythm around posting at regular intervals or around specific events, such as writing a book review post shortly after I finish reading a book.
Blog posts by the numbers
Blog posts: 2013-2022
My goal is to post 100 times a year. The closest I've come to that goal is 96 times in 2020. I fell short again this year at 50, halfway there.
| | |
| --- | --- |
| 2013 | 71 |
| 2014 | 73 |
| 2015 | 59 |
| 2016 | 57 |
| 2017 | 36 |
| 2018 | 24 |
| 2019 | 93 |
| 2020 | 96 |
| 2021 | 60 |
| 2022 | 50 |
2022 by month
The year started slow, picked up in the late summer and early fall, and then finished weak. The goal is to produce a more consistent 7-10 posts a month.
| | |
| --- | --- |
| January | 3 |
| February | 4 |
| March | 4 |
| April | 7 |
| May | 0 |
| June | 1 |
| July | 5 |
| August | 7 |
| September | 4 |
| October | 8 |
| November | 4 |
| December | 3 |
Most popular content
One of the more interesting things I like to do is track the most popular content on the blog. With Google forcing the switch to GA4 later this year, maintaining these numbers is going to be more challenging, but I'm still going to give it a try.
Anyway, here are the numbers as of December 31, 2022. I like to break it down into 3 lists:
The most popular posts I wrote last year
The most popular posts for the year
The most popular posts since inception
Most viewed – published in 2022
Most viewed posts in 2022
Most viewed posts ever
2022 goal results
I only had one goal for last year, and I completed half of it. I posted 50 times against my goal of 100. While I didn't meet the goal, the year was still a success. I continued showing up throughout the year. At the end of the day, that's all that really matters.
2023 goals
There are two goals for this year. The first is the ever present and not yet attained 100 posts for the year. The second is to focus this blog on my life journal and book reviews. I'd like to offload the technical how-to's and baking posts to separate domains I purchased during 2022. I'll still count any posts on those sites to my goal of 100, once those sites are up and running. I suppose the first goal will be setting the sites up, and the second goal will be filling them with content. It's always best to walk before you run!
Once those sites have been set up, I'll post the links to the new sites here.