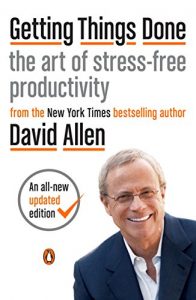 I'm in the middle of a productivity reading binge this year. It was inspired by Cal Newport's Deep Work, which I read during the first half of 2018. Since then I've read the 80/20 Principle by Richard Koch and Get It Done by Michael Mackintosh. The next book up on my productivity journey was Getting Things Done: The Art of Stress-free Productivity by David Allen. It was recommended by one of my co-workers, Julie Yousefi. Given how organized her desk always is, I figured she must be on to something and that Allen's book was worth a read.
I wasn't prepared for what I was getting into when I opened up Getting Things Done. Most books on productivity are theoretical. They give you some broad, generalized ideas that are left as an exercise to the reader to figure out how to incorporate into your daily routine. More often than not, I store away those theories as "to-do's" and never get around to figuring out how to put them into practice.
Well, I'm here to tell you that Getting Things Done is short on theory and long on practical ideas that you can implement immediately, which is a good thing.