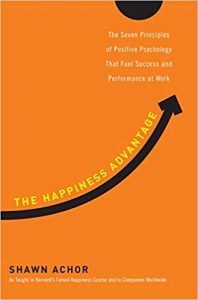 A couple of years ago, I made the choice to take a more focused approach with my reading. Instead of sprinkling personal development reads in with my fun reads, I chose to separate them into their own list. I also decided that I would dedicate time each morning to reading those books. The purpose was (is) two-fold:
I wanted to develop better habits to manage my behaviors and actions; and
I wanted to start the day with positive energy and thoughts, which you don't get from reading the daily news or from morning talk shows
My adventure has been both interesting and rewarding. What's interesting is that once you make the choice to explore a specific genre of books, you discover that the depth of books in that genre is limitless. In addition to getting tips from Amazon's relentless recommendation engine, the books themselves contain their own recommendations, reading lists, and resources to explore. 
Such is how I discovered The Happiness Advantage by Shawn Anchor. The book was suggested reading in The Slight Edge by Jeff Olson, which was one of my top reads for 2017. So it should come as no surprise that The Happiness Advantage was one of my top suggested reads for 2018. So yes, even though I finished the book over a year ago, here is my review.